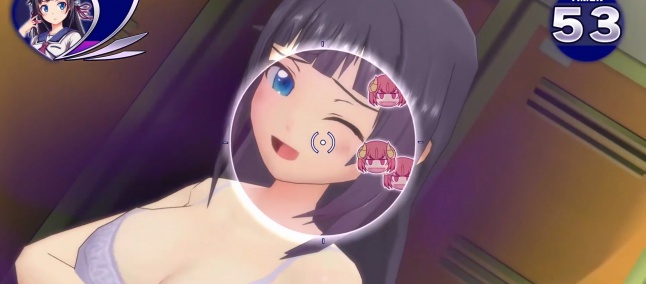 De acordo com uma matéria do Wall Street Journal, a Nintendo está encorajando os desenvolvedores a criarem jogos com conteúdos mais violentos e "sexys" para o Switch. A ideia é diminuir um pouco o estereótipo da imagem de criar jogos somente para a família, mesmo que o foco continue sendo este público, além de atingir uma "fatia" do público-alvo da Microsoft e da Sony.
Takuya Aizu, o chefe executivo da Inti Creates, que é a desenvolvedora do de Gal*Gun 2 demonstrou surpresa que a Nintendo foi mente aberta para aceitar um jogo do gênero para seu console. Para quem não sabe, Gal*Gun é uma série famosa no Japão por colocar meninas com seios fartos e calcinhas aparecendo no melhor estilo "soft hentai".
Vídeo do Youtube

R3V5TVBfTWkwYmM=
Em Gal Gun 2, o jogador dispara tiros de feromônios em garotas para deixá-las eufóricas
Takuya Aizu, diretor executivo da Inti Creates, pensou em não lançar Gal Gun 2 no console híbrido pelo fato da Big N não estar interessada no tipo de conteúdo, mas em conversas com a companhia, a ideia de trazê-lo para o Switch foi aceita.
Achei que não seria possível lançar um game do gênero para o Switch, mas surpreendentemente, a Nintendo me deu 'sinal verde.
Já a Nintendo comentou que os videogames são máquinas de entretenimento que devem abranger os mais diferentes tipos de gameplay, gêneros e faixa etária. Já os pais têm diversas formas de proteger as crianças de conteúdos focados para outras faixas etárias, sendo que o próprio Switch permite o controle parental, incluindo aplicativos nos smartphones que dão detalhes de que jogos eles estão jogando, e por quanto tempo.
Uma das prováveis razões que levaram a Nintendo a ser mais "mente aberta" pode ter sido a falha do Wii U, seu console anterior, em conquistar uma grande audiência, sendo que uma das razões era o pouco interesse dos jogadores considerados "hardcores".
Entre os jogos que serão lançados para o Switch com temáticas mais adultas está o Nights of Azure 2: Bride of The Moon, que é um RPG de ação com meninas em pouca roupa focado no público asiático. Já aqui no ocidente teremos em um futuro próximo o Doom e Wolfenstein 2, dois jogos de tiro em primeira pessoa conhecidos pelas cenas de violência, gore e muito sangue.
Entretanto, o The Wall Street Journal afirma que é muito cedo para avaliar o retorno dos esforços das companhias, citando como exemplo Nights of Azure 2, que vendeu 6.317 cópias desde que foi lançado em agosto, no Japão. Segundo um representante da Koei Tecmo, os números do Switch não são ruins, embora as vendas sejam maiores no PlayStation 4 porque há uma base instalada maior.
Fontes:
NintendoBlast
WallStreetJournal