Finalmente, há uma razão para prestar atenção ao programa
Sony Rewards
: agora você pode começar a trocar troféus da
PSN
por dinheiro em sua conta na
PSN
.
Uma nova seção da página Rewards Passes no site da
Sony Rewards
que apareceu na semana passada lista troféus de prata, ouro e platina como marcos que você pode cumprir para ganhar pontos. Esses pontos podem, por sua vez, ser resgatados por dinheiro real na
PSN
. Não é muito, lembre-se, e a linguagem que envolve a seção de troféus faz com que não pareça claro se essas recompensas serão obtidas mais de uma vez, mas é pelo menos algo para todas aquelas horas cansativas que passaram tentando saltar através de aros de videogames.
Aqui está a repartição de quantos pontos você pode ganhar:
100 troféus de prata por 100 pontos ou um ponto por troféu
25 troféus de ouro por 250 pontos ou 10 pontos por troféu
10 troféus de platina por 1000 pontos ou 100 pontos por troféu
1.000 pontos podem lhe custar um vale de US$10, o que significa que uma vez que você colecione 10 novas platinas (você não terá pouca experiência), você terá o suficiente para comprar um jogo indie barato ou para uma compra maior. Quanto aos troféus de prata e ouro, essa quantidade de pontos está mais perto de ter algumas músicas, se isso. Então, na próxima vez que você estiver trabalhando para obter a última prata em
Ratchet & Clank
enquanto o seu amado olha aborrecido, você pode dizer que está fazendo isso para obter uma cópia digital da The Mask of Zoro que ele sempre quis.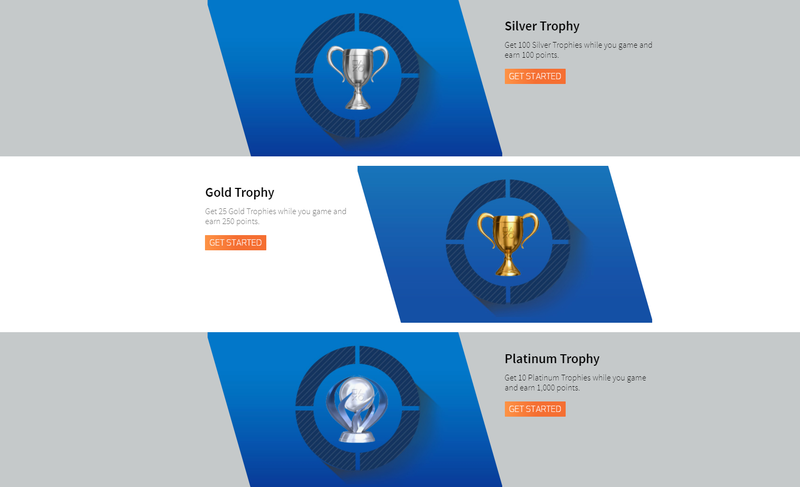 Apenas para satisfazer minha própria curiosidade, fiz um pouco de matemática para ver o que essa nova taxa de câmbio significaria para o caçador de troféus mais dedicado. Atualmente,
Roughdaw4
(nome de Yay na PSN) está no topo da tabela de troféus com 15,551 de prata, 6.903 de ouro e 1.359 de platina. Se ele pudesse teoricamente redimir todo aqueles a taxa atual, isso significaria cerca de US$1.583 para todo esse trabalho ou aproximadamente 25 downloads de jogos com preço total.
Para que os troféus contem a recompensa, você deve se inscrever para receber recompensas da
Sony Rewards
e ter sua conta
PlayStation
ligada a ela antes de ganhá-las, então, se você decidir começar a cultivar por esse doce, certifique-se de fazer isso.
Além disso, essa parte do programa atualmente está disponível apenas nos
Estados Unidos
.